ExamOnline is an online assessment system specifically designed to deliver high stakes summative assessments in higher education and professional certification settings. Like other systems it provides many computer marked question types (multiple choice, gap-fill etc.), but unlike other systems it has been specifically designed to support the kinds of examinations found in higher and professional education: extended answer and essay styles examinations. It even supports candidates submitting hand-drawn sketches or diagrams as part of their answer.
Play the video (requires Flash)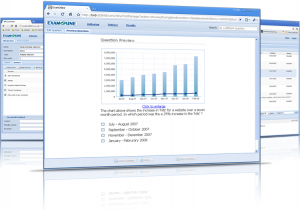 ExamOnline benefits
Makes it easy to deliver sophisticated higher level examinations on-screen

Supports the use of essays and hand-drawn sketches as part of the assessment process

Supports on-screen and on-paper marking
Is a proven solution for higher and professional education
Intuitive, consistent interfaces (supported by fully illustrated online help and numerous integrated 'show me' help videos) make it easy to create questions, assemble them into tests, deliver them securely, and analyse the results, all through a standard web browser.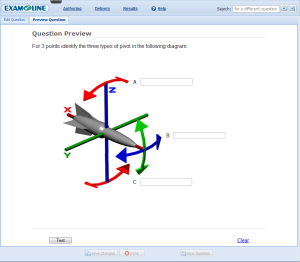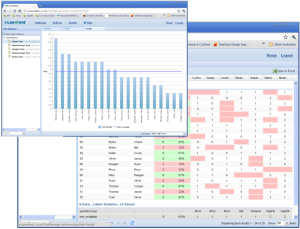 ExamOnline is fully browser based, which means there is no client software for you to install : you can access and fully control ExamOnline from any internet enabled PC or laptop, 24/7.
ExamOnline is highly innovative, and provides unique support for essay examinations, and for hand drawn sketches which can be marked on-screen as part of a student's answer.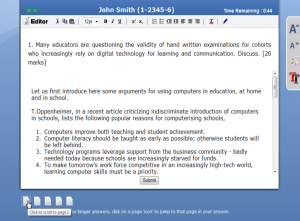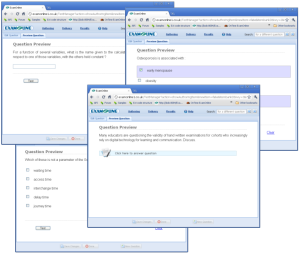 ExamOnline supports a number of different question types (multiple choice / multiple selection / gap-fill / numeric, etc.), and makes organising them into question banks easy.
Technical reliability is essential in online testing, and ExamOnline is designed from the ground up to be robust and reliable. It is network, server, and client fault tolerant. What this means is that even if you have network or server problems during an examination, the examination can proceed as normal and all your candidates answers will be saved.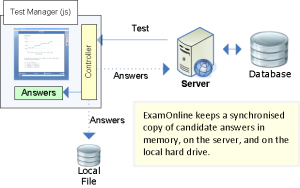 Click on the menu items on the left hand side to find out more about ExamOnline.